Become a friend of Revival Culture Global Ministries on Facebook: Revival Culture
About Revival Culture:
Revival Culture Global Ministries is a family ministry team who travel to different parts of the world spreading the flames of revival.
The team is Phillip Beard (brother/son), Rebekah Milne (sister/daughter), Kerryne McClelland (family friend), Helen Beard (mother) and Cliff Beard (father).
Cliff and Helen Beard have been ministring around the world for sixty years and they have ministered in excess of sixty nations. Through their ministry hundreds of thousands of people have received salvation and experienced miraculous healing. They are spiritual pioneers, church planters, evangelists, pastors, teachers, conference speakers, authors, TV evangelists, global missionaries and pioneers of several orphanages (IGC). Now, at the ages of 82 and 80 respectively, Cliff and Helen are still travelling throughout Australia and overseas ministering.
In 2007 Rebekah and Kerryne joined Cliff and Helen in overseas ministry, then Phillip joined the team in 2008, and it was at this time that the family ministry group began to operate under the banner of Revival Culture Global Ministries.
Midyear 2012 saw the ministry team separate into two groups when Phillip, Rebekah and Kerryne went off to minister in Mexico and Cliff and Helen went off to minister in Cambodia and Thailand.
Each year Revival Culture Global Ministries seems to be growing in power and authority; the salvations are becoming more abundant and the miracles are becoming more pronounced. They have witnessed amazing miracles such as the cripple walking, deaf ears opened and the blind receiving their sight. They said that they don't believe in sicknesses – only healings and wholeness. Their distinctive branding is bringing freedom, liberty and exuberance to people's lives everywhere they travel. When ministering they have seen whole congregations fall down under the power of God. Much of their ministry fire comes from their conviction that they are still living in Bible times. They say that Bible occurrences happen when God's people act through the God of the Bible.
Mexico 2011: This man in the picture came into the meeting crippled, blind and dumb but left totally healed. He ended pushing Rebekah around in his own wheelchair. 

In the meetings in Mexico 2012, people began getting healed where they sat – well before the preaching time. There were so many miracles in each meeting that it was impossible to record them. They said that the healing testifying greatly reduced the time that was allotted for the preaching. Also, the Holy Spirit was flowing in continuous waves that the meetings often continued on for well over four hours. Often, the Spirit of joy would take over meetings that people could not stop laughing and had to be eventually carried out of the meeting hall. In several meetings well over hundred people came out to receive salvation. Revival is upon the nations.
The journey for RCGL is still continuing…
Kerryne, Rebekah and Phillip in Cambodia.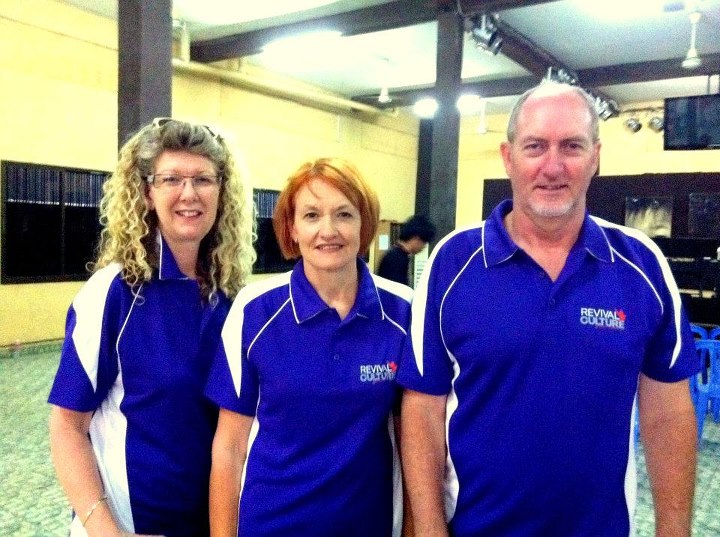 Helen and Cliff in Mexico.